Looking for something different to entertain your guest? Look no further! Add our interactive trivia entertainment package to your event. Trivia shows are great for corporate events, weddings, bars, sales events, car shows, and many more types of events.
How Does Trivia Shows Work?
Trivia shows is a TV-style interactive event that consist of 5 wireless buzzers (up to 5 players can play), video monitors and a fun interactive host/MC to get the event going. Your host will engage the players in fun trivia, and the players will use the buzzers to answer a trivia question for points.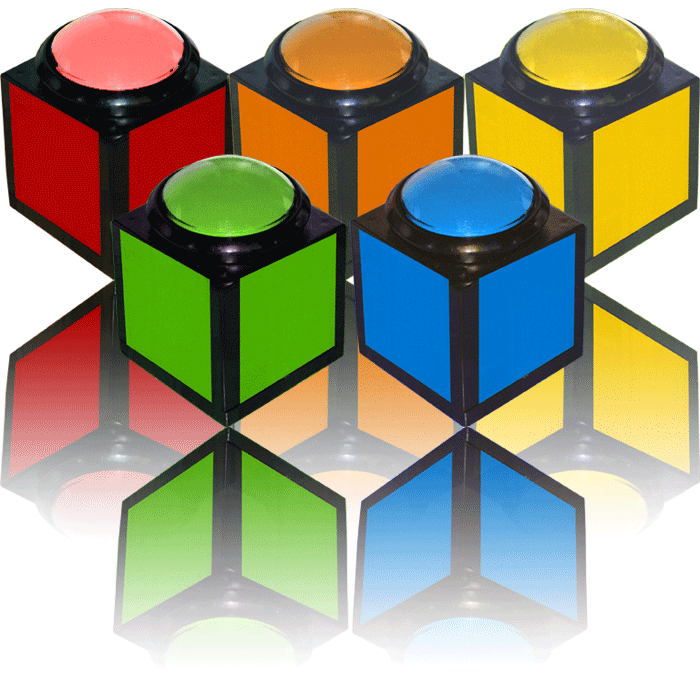 Are There Choices in Games We Can Play?
Absolutely! We currently have 4 games that you can utilize at your event. Listed below are the four games with description:
Trivia Board Pro

is similar to Jeopardy where we can customize the questions to fit your event to make a lasting impression.

Trivia Feud

is similar to Family Feud which is perfect for corporate events where different departments go head to head in a challenge to solve surveyed answers. Kids love it too for guys against gals trivia. Planning a wedding rehearsal dinner? Get in-laws against in-laws in this action packed game.

Trivia Squares is similar to Hollywood Squares which is perfect for any event where smarts, luck and strategy force players to play offensively and defensively in a trivia based tic-tac-toe game.
Trivia Fortune is similar to Wheel of Fortune. This game is perfect for youths, grandmas, grandpas and anyone in between. Originally based on the concept of "Hangman" players press their buzzer to stop the "wheel" and then earn points by picking letters in a hidden phrase. Our "wheel" is based on the TV show "Press Your Luck" but instead of Whammies, players need to avoid "Bankrupt" and "Lose a Turn".
/